DesktopDirect is an innovative, remote desktop access solution. Unlike VPNs, DesktopDirect enables employees to get to their office computers from any remote location — whether they are at their home office, a customer or partner site, a public Internet kiosk or even on an iPhone, iPad or Android device. DesktopDirect uniquely leverages proven and scalable technologies to deliver the industry's most secure and cost-effective solution for remote desktop access and control.
Download DesktopDirect Datasheet  | View DesktopDirect Virtual Demo
Simple, Secure Access to Office Desktops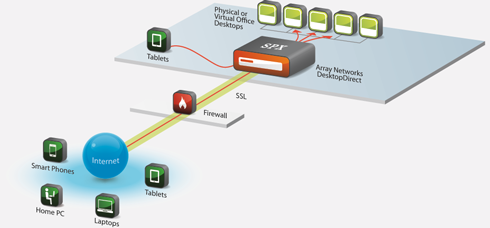 In order to boost productivity and mitigate the effects of business disruptions, office employees need a way to work remotely. DesktopDirect is an appliance-based remote desktop access solution that enables workers with an office PC to be productive from any location on any device with full security. Office workers get a full view into their physical or virtual desktops, resulting in immediate productivity without the need to add them to the VPN user base or issue additional laptops.
Data Never Leaves the Network Users control office PCs using remote devices secured by DesktopDirect end point controls, eliminating the potential for data leakage
Full Application Availability Leverages and extends the existing application and security environment on office PCs to maximize productivity at minimal cost
Simple to Deploy, Easy to Use Allows users to self-register office desktops and utilize single sign-on to access desktops from a URL or mobile application