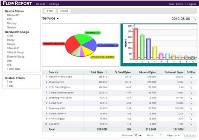 With the capability to classify and control network traffic from Layer 2 to Layer 7, AscenFlow intelligently shapes network bandwidth and delivers system-wide service level guarantees based on the needs and priorities of the enterprise or network service provider.
AscenFlow's comprehensive analysis tool, FlowReport, stores and analyzes the large volume of connection data generated by AscenFlow, providing comprehensive reporting and analysis for all the major functions of AscenFlow.
FlowReport substantially enhances AscenFlow's built-in reporting, giving IT personnel a better understanding of long-term traffic trends and user behavior.
Features
Enhanced statistics based on AscenFlow daily records with customizable drill-down
Query by Source IP/Destination IP/Service/Class/Quota Usage/User
Multiple filters to narrow the reporting criteria
Real Time/Short Term/Long Term statistics for analysis of detailed or trend activities
Save statistical reports in PDF or CSV formats for presentation or further reporting
Scheduled reporting (in PDFor CSV format) emailed to specific users
Multi-language UI
Supports database restore, allowing queries of historical statistics
Supports database and log backup by specific date or date intervals, reducing required local on-line disk space