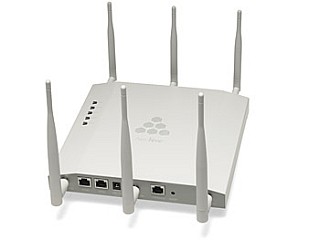 The Aerohive Networks HiveAP 340 access point provides high-performance, dual concurrent (2.4GHz and 5GHz) 802.11n, 3×3 MIMO as well as dual 10/100/1000 Ethernet ports. The HiveAP 340 adds support for redundant power (Power over Ethernet) as well.
Dual Ethernet ports allow the access points to use link aggregation to bond 100Mbps links or ensure reliability with redundant links. This allows the performance advantage of dual radio 802.11n to be seen even when connected through legacy 10/100 switches. When connected to two separate switches, the dual links can be used for redundant data connectivity in case one of the switches fails.
The HiveAP 340 is rated for extended temperature ranges, and designed for locations such as warehouses, industrial environments, distribution centers, and other areas where you would require extended temperature range or the ability to support different antennas.
Features & Benefits
Flexible environmental support enabling deployment in a variety of environments
Plenum rated for indoor, office environments, and an outdoor enclosure accessory that enables deployment of 802.11n throughout a campus or enterprise deployment
Rated for extended temperature range, enabling deployment in warehouses, outdoors, or other settings where temperatures vary
Dual Ethernet and Power over Ethernet (PoE) support allows for redundant data and power
Supports 802.3af PoE so deployment does not require access to power outlet
Dual Concurrent Radios (a/b/g/n) able to function in a mixed client environment at either 2.4 or 5 GHz
Variety of mounting options including wall mount, suspended mount, plenum mount, and ceiling tile clips; outdoor accessory has option of pole mount
Low-distraction indicators appear as softly glowing color bands, rather than brightly blinking lights
Trusted Platform Module hardware-based key storage and encryption to ensure physical security
Up to 16 SSIDs per radio – enabling network segmentation
For a simple and cost-effective solution for outdoor enterprise 802.11n deployments, Aerohive offers an outdoor accessory for the HiveAP 340. With internal thermal management, sunshield and NEMA4X water resistance rating, the outdoor enclosure is designed to enable the HiveAP 340 to be deployed in outdoor and harsh indoor environments. The outdoor enclosure features industry standard outdoor Type-N RF connectors and can be installed using flexible wall or pole mounting options.
Specifications
HiveAP 340
HiveAP 340 Outdoor Accessory
Mounting

Wall Mount
Ceiling Tile Clips
Suspended Mount
Plenum Mount

Wall Mount
Pole Mount 1″ to 3.5″ diameter

Physical Security

Kensington security lock point
Padlock lock point

– Padlockable latch
Radios
802.11a Radio Specifications

5.150–5.950 GHz Operating Frequency
Orthogonal Frequency Division Multiplexing(OFDM) Modulation- 20 dBm (100 mW) Transmit Power
Rates (Mbps): 54, 48, 36, 24, 18, 12, 9, 6 with automatic fallback

802.11b Radio Specifications

2.4–2.5 GHz Operating Frequency
Direct-Sequence Spread-Spectrum (DSSS) Modulation
20 dBm (100 mW) Transmit Power
Rates (Mbps): 11, 5.5, 2, 1 with automatic fallback

802.11g Radio Specifications

2.4–2.5 GHz Operating Frequency
Orthogonal Frequency Division Multiplexing (OFDM) Modulation
20 dBm (100 mW) Transmit Power
Rates (Mbps): 54, 48, 36, 24, 18, 12, 9, 6 with automatic fallback

802.11n Radio Specifications

2.4–2.5 GHz and 5.150 GHz – 5.950 GHz Operating Frequency
802.11n Modulation
20 dBm (100 mW) Transmit Power
Rates (Mbps): MCS0 – MCS15 (6.5Mbps – 300Mbps)
2×3, 3×3 Multiple-In, Multiple-Out (MIMO) Radio
HT20 and HT40 High-Throughput (HT) Support
A-MPDU and A-MSDU Frame Aggregation

802.11a Radio Specifications

5.150–5.950 GHz Operating Frequency
Orthogonal Frequency Division Multiplexing(OFDM) Modulation
20 dBm (100 mW) Transmit Power
Rates (Mbps): 54, 48, 36, 24, 18, 12, 9, 6 with automatic fallback

802.11b Radio Specifications

2.4–2.5 GHz Operating Frequency
Direct-Sequence Spread-Spectrum (DSSS) Modulation
20 dBm (100 mW) Transmit Power
Rates (Mbps): 11, 5.5, 2, 1 with automatic fallback

802.11g Radio Specifications

2.4–2.5 GHz Operating Frequency
Orthogonal Frequency Division Multiplexing (OFDM) Modulation
20 dBm (100 mW) Transmit Power
Rates (Mbps): 54, 48, 36, 24, 18, 12, 9, 6 with automatic fallback

802.11n Radio Specifications

2.4–2.5 GHz and 5.150–5.950 GHz Operating Frequency
802.11n Modulation
20 dBm (100 mW) Transmit Power
Rates (Mbps): MCS0 – MCS15 (6.5Mbps – 300Mbps)
2×3, 3×3 Multiple-In, Multiple-Out (MIMO) Radio
HT20 and HT40 High-Throughput (HT) Support
A-MPDU and A-MSDU Frame Aggregation

Antennas

6x RP-SMA antenna connections for externalantennas

2x N-Type female for external antennas
3dBi outdoor antennas available

Interfaces

2x autosensing 10/100/1000 Base-T EthernetPorts
2x PoE capable (802.3af& pre-802.3at) Ethernet Ports
Link Aggregation supported via Etherchannel (link aggregation at 10/100 only)
1x Serial RJ45 port (bits per second:9600, data bits: 8, parity: none, stop bits: 1, flow control:none)
1x Reset Pinhole

Autosensing 10/100 Base-T Power overEthernet Port with Lightning Protection(required)

Dimensions(WxHxD)

8.5″ W x 1.25″ H x 8″ D(21.5 cm W x 3.2 cm H x 20.3 cm D)

14.25″ W x 11.5″ H x 5.875″ D(without antennas)
14.25″ W x 11.5″ H x 8.25″ D(with brackets)

Weight

12 lbs (includes mounting brackets)
15 lbs (with HiveAP 340)

Environmental

Operating: -20 to +55°C
Storage: -40 to +80°C
Humidity: 95%

Operating: -25 to +60°C
Storage: -40 to +80°C
Humidity: 100%
Wind Survivability: >165 mph

Environment Compliance
Power Options

Dual 802.3af and/or pre-802.3at PoE ports with Smart PoE intelligent power management.
48v DC external power adapter (sold separately)

Passive power over Ethernet

Power Specifications

AC/DC power adapter:

Input:100 – 240 VAC
Output: 48V/0.625A

PoE nominal input voltages: 48 V, 0.35A(802.3af) – 48 V, 0.625A (Pre-802.3at)
RJ-45 power input pins: Wires 4, 5, 7, 8 or 1, 2, 3, 6

48Vdc @ 0.35A nominal
48Vdc @ 0.40A maximum