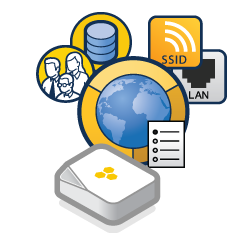 The HiveManager Online Network Management Service is an enterprise-class management system, delivered as a cloud-enabled service for Aerohive access points and routers.
HiveManager Online offers the same simple policy creation, firmware upgrades, and centralized network management options as the on-premise version of HiveManager. The advantage is not deploying another device in your network. Instead, HiveManager Online is hosted within secure Tier IV SAS 70 Type II data centers, with scheduled backups and disaster-recovery capabilities.
HiveManager Online is designed to make it cost effective to start small and grow a network with no upfront capital costs beyond access points. HiveManager is a vital component of Aerohive's unique Branch on Demand Network-as-a-Service subscription offering, designed to make it easy and cost effective to roll out remote access to branch offices, remote users and teleworkers with zero-CAPEX.
A Scalable Network Management Solution
Network Management SystemHiveManager Online comes in two flavors – Express, for simpler AP-only deployments, and Enterprise, a powerful network management system for managing both access points and branch routers. Express, designed for smaller deployments, streamlines the interface without compromising on enterprise-class features. Enterprise offers the full capabilities of the HiveManager platform for larger organizations with sophisticated policy sets and the management of routers as well as wi-fi access points. HiveManager Online enables administrators to start with Express and seamlessly upgrade to Enterprise as their needs change.
Features & Benefits
Simple central management system that grows with your deployment – scales from one AP or router to thousands cost effectively
Plug-and-play deployment – the administrator just plugs in the AP or router and browses to the interface
No appliance to install, configure, upgrade or patch
Green solution – no rack space, cooling, or power requirements, just power the APs or routers
Management of your wireless network from anywhere
Lower cost of entry – move CAPEX management expenses to OPEX
Integrated tools like a Planner, Packet Capture, and Client Tracker enable easy scoping, deployment, and troubleshooting without additional expense
Accessible via a web browser on Windows, Linux, or Mac OSX, providing an application-like AJAX interface to access the device