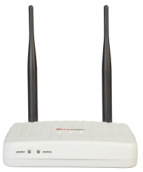 Models
HotClient 2100 – Indoor CPE
Download the Data Sheet 
The Firetide HotClient 2000 customer premises equipment (CPE) provides a secure and reliable solution for extending the reach of outdoor wireless mesh networks to indoors. It enables operators deploying municipal and enterprise wireless networks to maintain optimal user experience and connectivity anywhere. Featuring a high-power 400 mW radio, the HotClient CPE connects to outdoor access points to provide redundancy of coverage and excellent signal availability.
Firetide Wireless Mesh Infrastructure 
The HotClient 2000 CPE is a key component of the Firetide multi-service network infrastructure that securely supports concurrent transmission of real-time video, voice, and data.
The self-forming and self-healing properties of Firetide HotPort mesh nodes enable rapid network deployment and dependable operation. The patented Firetide AutoMesh routing protocol manages network load and traffic congestion to optimize network-wide performance and capacity.
Firetide HotPoint access points and HotClient CPE devices extend the intelligence of the mesh to the edge of the network, enabling large-scale wireless access deployments with intelligent response to interference and effective management of multiple users accessing the network simultaneously.
The Firetide network management platform, HotView Pro, provides end-to-end network visibility and control for the entire Firetide mesh and access infrastructure, including HotPort mesh nodes, HotPoint access points, and HotClient CPEs.
Additionally, Firetide offers the HotView Controller mobility platform to provide seamless client and infrastructure mobility.
Indoor and Outdoor Flexibility 
To provide optimal flexibility, HotClient is offered in both indoor and outdoor versions.
The indoor HotClient 2100 CPE is essential for large-scale municipal deployments requiring reliable access to penetrate through thick walls. The CPE is housed in a plastic enclosure for wall or desktop mounting.
The ruggedized outdoor HotClient 2200 CPE can be placed on rooftops, in atria, and in outdoor hallways, making it ideal for office buildings and multi-dwelling units. The outdoor CPE is Power over Ethernet-enabled for extra versatility.
Bridging High- and Low-Power Wireless Devices 
Because consumer wireless devices such as laptops and Wi-Fi phones are typically low-power devices, an equalizer is required in the connection between the high-power outdoor wireless network and the indoor devices. The HotClient CPE serves as that equalizing bridge to ensure the best end-user experience possible.
Unique Access Features 
With HotClient CPE, Firetide has extended the management intelligence to the edge of the network, allowing service providers to monitor and report compliance to service level agreements on a per user basis.
Firetide access products – HotPoint access points and HotClient CPEs – support a fairness algorithm with traffic shaping ability to enable effective management of multiple users accessing the network at the same time. This technology ensures that a single user will not monopolize shared access.
The HotClient CPE also allows service providers to offer dedicated or shared service at contractual upload/download speeds.
RADIUS Server Authentication
Remote Authentication Dial In User Service (RADIUS) is an AAA (authentication, authorization, and accounting) protocol for access applications and mobility. The RADIUS server, integrated with HotView Pro, automatically downloads the configuration onto the HotClient CPE after the device has been authenticated, eliminating the need for end users to configure the CPE manually.
Privacy and Security
Secure, private communications are critical to residential and enterprise customers alike. The HotClient CPE supports the industry's highest level of security to ensure privacy for communications and reduces liability for service providers. Like all components of the Firetide mesh and access wireless infrastructure, the HotClient CPE offers WPA2 (Wi-Fi Protected Access) encryption for an unmatched, solid, and trusted network.