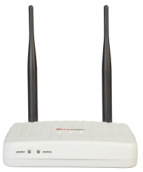 Models
HotPoint 4100 – Indoor Access Point
Download the Data Sheet
Firetide HotPoint Wireless Access Points deliver a modular access solution for large scale, indoor and outdoor wireless mesh networks. Modular design enables full network and software integration of the access points with a Firetide wireless mesh network while at the same time permitting independent physical placement of the hardware to provide optimal accessibility for Wi-Fi® clients.
Single-point Network Management for Mesh and Access
Whether connected directly to a Firetide wireless mesh network or to a wired infrastructure, the HotPoint access points are fully integrated and managed with the same HotView™ software used to manage Firetide mesh nodes. HotView provides remote management from a centralized location and users can manage all mesh and access traffic from a single console.
Advanced Security and Performance Features
HotPoint access points operate in the 2.4 GHz band and feature WPA2 and WEP encryption, up to 4 SSIDs, industry compliant QoS, and durable enclosures. High-power radios with up to 400 mW provide extended reach and outstanding penetration.
Access On or Off the Mesh
HotPoint wireless access points can be connected to a Firetide mesh node to provide Wi-Fi access to any indoor or outdoor location without the need for backhaul cabling. HotPoint access points can also connect directly to a conventional wired infrastructure eliminating the need to install a mesh node in locations where wired connectivity is readily available.
Modularity for Flexible Placement
Unlike conventional mesh networks that combine mesh backhaul and Wi-Fi access in the same enclosure, Firetide mesh nodes and access points can be physically separated allowing system integrators to optimize RF separately for both the mesh backhaul as well as client access. For example, in a multi-building mesh network, mesh nodes should be placed in areas that enable the best connectivity between buildings which is typically at higher locations. However the best locations for the access points tend to be lower to provide the best connectivity for Wi-Fi clients inside a building. Because the access points and mesh nodes are kept in separate enclosures, they can be independently positioned for optimal RF connectivity.
Designed for Hot Spots
Layered service levels can be enabled through Virtual APs (VAPs). Virtual AP Groups are supported with controller. Each HotPoint AP supports up to 4 VAPs, creating different logical networks with varying levels of security, access, and performance. Additional Hot Spot features include user-based rate limiting and intracell blocking.
Designed for Enterprise Networks
The 4100 Access Point can be seamlessly integrated with the existing enterprise L2/L3 networks. Seamless wireless Client mobility across L2/L3 domains and centralized policy management support can be achieved when the access point is managed through Firetide WLAN or Firetide Mobility controllers.