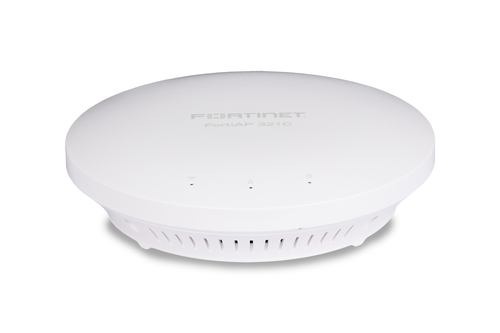 Designed to integrate security and access control, Fortinet's integrated wireless solutions provide single pane-of-glass management for security and access and are highly scalable to support the largest organizations.
Fortinet's integrated wireless solution utilizes the award winning FortiGate network security platform together with FortiAP access points in a classic centralized managed AP architecture. FortiGate consolidates WLAN control, firewall, VPN gateway, network IPS, DLP, antimalware, web filtering and application control into a single appliance.
The FortiAP family includes a full range of indoor and outdoor access points, suitable for high-density enterprise and campus requirements. This secure WLAN solution enables distributed enterprises, hospitals and schools to manage wired and wireless LAN security for tens of thousands of clients through a "single pane of glass", all without the complexity of adding point security products. Choose from a range of 802.11ac and 802.11n access points and wireless controllers to fit your business needs.
Product Datasheets
| | | | | | | |
| --- | --- | --- | --- | --- | --- | --- |
| Product Name | Number of Antenna | Frequency of Radio 1 | Frequency of Radio 2 | Number of Radios | Total Network Interfaces | Throughput |
| FortiAP-321C | 6 Internal | 2.4 GHz b/g/n | 5 GHz a/n/ac | 2 | 1 x GE RJ45, 802.3af PoE | Radio 1 – Up to 450 Mbps, Radio 2 – Up to 1300 Mbps |
| FortiAP-320B | 6 Internal | 5 GHz a/n | 2.4 GHz b/g/n | 2 | 2 x GE redundant RJ45 ports, 802.3af PoE | Up to 450 Mbps per radio (900 Mbps Total) |
| FortiAP-320C | 6 Internal | 2.4 GHz b/g/n | 5 GHz a/n/ac | 2 | 2 x GE redundant RJ45 ports, 802.3af PoE | Radio 1: Up to 450 Mbps, Radio 2: Up to 1300 Mbps |
| FortiAP-224D | 4 external RP-SMA | 5 GHz a/n | 2.4 GHz b/g/n | 2 | 1 x GE RJ45 | Radio 1 – Up to 300 Mbps, Radio 2 – Up to 300 Mbps |
| FortiAP-223B | 4 RP-SMA External | 5 GHz a/n | 2.4 GHz b/g/n | 2 | 1 x GE RJ45 port, 802.3af PoE | Up to 300 Mbps per radio (600 Mbps Total) |
| FortiAP-223C | 4 RP-SMA External | 2.4 GHz b/g/n or 5 GHz a/n (Selectable) | 5 GHz a/n/ac | 2 | 1 x GE RJ45, 802.3af PoE | Radio 1 – Up to 300 Mbps, Radio 2 – Up to 867 Mbps |
| FortiAP-222B | 4 external | 5 GHz a/n | 2.4 GHz b/g/n | 2 | 1 x GE RJ45 port, 802.3at PoE | Up to 300 Mbps per radio (600 Mbps Total) |
| FortiAP-222C | 4 external N-Type | 5 GHz a/n/ac | 2.4 GHz b/g/n | 2 | 1 x GE RJ45 | Radio 1 – Up to 867 Mbps, Radio 2 – Up to 300 Mbps |
| FortiAP-221B | 4 Internal | 2.4 GHz b/g/n or 5 GHz a/n (Selectable) | 2.4 GHz b/g/n | 2 | 1 x GE RJ45 port, 802.3af PoE | Up to 300 Mbps per radio (600 Mbps Total) |
| FortiAP-221C | 4 Internal | 2.4 GHz b/g/n or 5 GHz a/n (Selectable) | 5 GHz a/n/ac | 2 | 1 x GE RJ45 port, 802.3af PoE | Radio 1: Up to 300 Mbps, Radio 2: Up to 867 Mbps |
| FortiAP-210B | 2 Internal | 2.4 GHz b/g/n or 5 GHz a/n (Selectable) | n/a | 1 | 1 x GE RJ45 port, 802.3af PoE | Up to 300 Mbps |
| FortiAP-112B | 1 Internal | 2.4 GHz b/g/n | n/a | 1 | 2x FE RJ45 ports, PoE | Up to 150 Mbps |
| FortiAP-112D | 1 Internal | 2.4 GHz a/b/g/n | n/a | 1 | 2x FE RJ45 ports with PoE pass-through | Up to 150 Mbps |
| FortiAP-28C | 2 internal | 2.4 GHz b/g/n or 5 GHz a/n (Selectable) | n/a | 1 | 10 x GE RJ45 ports (including 2 x WAN ports, 8 x LAN ports) | Up to 300 Mbps |
| FortiAP-25D | 2 internal | 2.4 GHz b/g/n or 5 GHz a/n (Selectable) | | 1 | 1x GE RJ45 WAN port, 4x FE RJ45 LAN ports | Up to 300 Mbps |
| FortiAP-24D | 2 internal | 2.4 GHz b/g/n or 5 GHz a/n | n/a | 1 | 1x GE RJ45 802.3af PoE WAN port , 4x FE RJ45 LAN ports | Up to 300 Mbps |
| FortiAP-21D | 2 internal | 2.4 GHz b/g/n | | 1 | 2 x FE RJ45 ports (1 x WAN port, 1 x LAN port) | Up to 300 Mbps |
| FortiAP-14C | 1 internal | 2.4 GHz b/g/n | n/a | 1 | 5 x FE RJ45 ports (including 1 x WAN port, 4 x LAN ports) | Up to 150 Mbps |
| FortiAP-11C | 1 internal | 2.4 GHz b/g/n | n/a | 1 | 2 x FE RJ45 ports (including 1 x WAN port, 1 x LAN port) | Up to 150 Mbps |