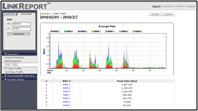 The exponential growth of the Internet and increasing business dependency on WAN connectivity drives the need for cost-effective WAN traffic management. This is particularly true for business-critical applications which are demanding either more bandwidth or better network quality of service (QoS) management to achieve maximum business process performance and value within the organization. Optimizing your network requires careful real-time and trend analysis of network traffic. LinkReport enhances AscenLink's statistical reporting and performs further analysis and long-term storage of traffic data.
LinkReport is a powerful software tool for analyzing and reporting WAN connectivity performance. It is closely integrated with AscenLink to provide two types of analytical reports, depending on the administrator's requirements:
Daily Analysis (bandwidth utilization/ bandwidth statistics)
Advanced Analysis of performance by

group categories
services
source IP addresses
destination IP addresses
WAN links
Time-of-Day
Reporting periods can be scheduled on a monthly, weekly, or daily basis, at the choice of the administrator.
Product Features
Intuitive and User-Friendly UI
Daily analysis of AscenLink status (including lost connections, service disruption and bandwidth statistics)
Provides 'Top N' analysis of bandwidth usage (by the categories mentioned above)
Effective management of your WAN resources.
Scheduled reports on a month/week/daily basis to ensure effective analysis and management
Provides regular automated reports via email interested parties
Save statistical reports in multiple formats (.doc, .rtf, .csv, or .xml) for presentation or further reporting
Product Reports
General statistics for bandwidth, WAN reliability and connection limit
General statistics for hardware
Top N statistics for bandwidth resources
Top N statistics for services
Top N statistics for classes
Top N statistics for source IP addresses
Top N statistics for destination IP addresses
Top N statistics for WAN links
Top N statistics for time
Query for service utilization
Query for host utilization
Statistics for outbound and inbound traffic
Statistics for a specific time period, or on an hourly/daily/monthly basis
Statistics of failure for different WAN links
Statistics on bandwidth usage for different WAN links
Statistical analysis on firewall status
Statistical analysis on virtual server's access status
Statistical analysis on connection limit status
Statistical analysis on multiple IP status
Statistical analysis on tunnel routing status
Support for multiple users with varying access control
Provides regular monthly/weekly/daily reports for MIS personnel
Intuitive UI with multi-language support