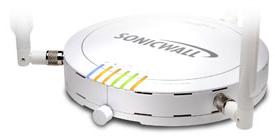 SonicWALL® SonicPoint-N Dual-Radio wireless access points combine 802.11n and 802.11a/b/g wireless management with our award-winning line of firewall appliances to extend comprehensive security flexibly across wireless networks. SonicWALL lowers total cost of ownership (TCO) by enabling administrators to avoid implementing and separately managing an expensive wireless-specific solution that runs in parallel to their existing wired network.
Features
A wide range of innovative features incorporated into the SonicWALL SonicPoint-N Dual-Radio wireless access point provide seamless, secure wireless LAN (WLAN) connectivity as well as advanced performance, management and scalability.
Enhanced wireless reliability.
Multiple-Input Multiple-Output (MIMO) technology utilizes six external, removable antennas to enhance throughput and reliability. With dual radio functionality, one channel can be dedicated to compliance testing and the other to user support.
Discreet deployment.
With dimmable LEDs (excluding power) and plastic covers that can obscure both the logo and LEDs, SonicPoint-N Dual-Radio fits perfectly into environments that need discreet wireless coverage.
Flexible deployment options.
SonicPoint-N Dual-Radio can receive power from Ethernet and Gigabit Ethernet (GbE) cabling through an 802.3at Power over Ethernet (PoE) Injector when electrical outlets are not readily accessible. It can also be powered directly through an AC adapter. Options include either wall or ceiling mounting.
Exceptional wireless performance.
Features include 40 MHz channels and packet aggregation to support data rates of up to 600 Mbps on either 2.4 GHz or 5.0 GHz networks.
Supported
| | | |
| --- | --- | --- |
| Appliance Model | Max. SonicPoints Supported per WLAN Zone | Max. SonicPoints Supported per Appliance |
| TZ 100 / TZ 100w | 1 | 1 |
| TZ 200 / TZ 200w | 2 | 2 |
| TZ 210 / TZ 210w | 16 | 16 |
| NSA 240 | 16 | 16 |
| NSA 2400 | 32 | 32 |
| NSA 2400MX | 32 | 32 |
| NSA 3500 | 48 | 48 |
| NSA 4500 | 64 | 64 |
| NSA 5000 | 64 | 64 |
| NSA E5500 | 96 | 96 |
| NSA E6500 | 128 | 128 |
| NSA E7500 | 128 | 128 |
| NSA E8500 | 128 | 128 |
| NSA E8510 | 128 | 128 |