Array SpeedCore is a software-based delivery networking (ADN) platform engineered to secure, accelerate and control high-volume data traffic driven by explosive growth in the areas of mobility, virtualization and cloud computing.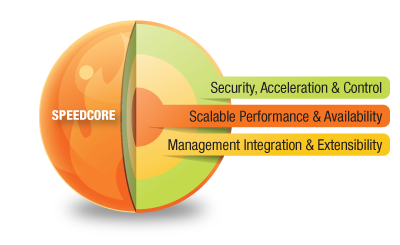 Now more than ever, CIOs and IT must support secure, real-time connectivity between applications and any user, anywhere, on any device to meet the growing demands of customers, employees and partners. With usage rapidly multiplying, delivering applications in a cost-effective manner aligned with revenues and productivity has become a business imperative.
Built from the ground up to leverage Array's parallelized 64-bit multi-core architecture, the SpeedCore ADN platform delivers the performance, security and availability, plus the control and data center intelligence needed to profitably scale applications to any IP-enabled device, anywhere in the world. Capable of generating unmatched value and economies-of-scale, SpeedCore is today's application delivery networking platform of choice for capitalizing on the tidal wave of data being unleashed by the mobile Internet and next-generation services.
The SpeedCore ADN platform powers all Array products from APV Series Application Delivery Controllers to SPX Series Universal Access Controllers to DesktopDirect™, an innovative remote desktop access solution. Conceived as a holistic platform for application delivery, SpeedCore outperforms on all fronts, from the data center to the end user. Flexibly packaged and exposed on purpose-built Array appliances, SpeedCore enables an unbeatable mix of price, performance and features for a wide range of application delivery networking requirements.
SpeedCore Application Delivery Datasheet
SpeedCore ADN Platform Highlights & Benefits
Enables anywhere-to-anywhere connectivity for the ultimate in worker productivity and revenue-generating service creation
Cloud-scale performance and capacity for application security, optimization and control
Demonstrable security for legal and compliance policies
Up to 500% improvement in application performance
99.999% uptime and guaranteed SLAs for customers and business-critical applications
Agile and extensible software architecture aligned with rapid data center evolution
Bi-directional integration with management and monitoring systems for optimizing the performance of traditional and virtualized data center technology
70% less CapEx and OpEx for purchasing, deploying and managing application delivery