Initially introduced as consumer devices, tablets are quickly gaining popularity in the enterprise. As a result, tablets now represent a new environment that IT must manage and secure. Array desktop delivery solutions provide an efficient, cost-effective means to support tablets in the enterprise while preventing data leakage and providing full application availability.
Array's DesktopDirect is an innovative, secure remote access solution. Unlike VPNs, DesktopDirect enables employees to get to their office computers from any remote location — whether they be at their home office, at a customer or partner site, at a public Internet kiosk, or even from their iPhones and iPads. DesktopDirect uniquely leverages proven and scalable technologies to deliver the industry's most secure enterprise-class solution for remote desktop access and control.
DesktopDirect for Tablet Access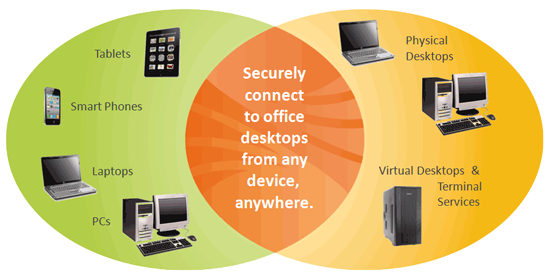 In a tablet access environment, the DesktopDirect appliance is installed in the corporate network and integrates with Active Directory or similar to establish user credentials for secure access. Either physical or virtual desktops may be registered for users, a process that can be accomplished by the administrator manually or via a database, or by end-users using Array Registration Technology. For tablet access, users download a free application from an App Store, App Marketplace or similar to their corporate or personal tablet. From there, users launch the DesktopDirect application, log in using their single sign on credentials, and make a selection from their list of registered desktops.
Data Leakage Prevention
DesktopDirect is an appliance-based solution that is enterprise owned and operated. Unlike managed services, DesktopDirect is under full enterprise control and does not open the corporate network to 3rd party networks. Connectivity from the DesktopDirect appliance to end-user devices is encrypted using SSL. Because end-users are using their remote device to control their office desktop, data never leaves the corporate network and cannot be left behind on tablets. Controls for copy, paste, print and screen capture eliminate any remaining chance of data leakage.
Full Application Availability
DesktopDirect leverages existing desktop, application and security infrastructure. Unlike server-based computing, a traditional PC work environment is provided to nearly all employees. Without any need for new hardware or software, licenses or application environments, employees enterprise-wide can be provided with full application availability.
Time & Expense
As compared to the time and expense of developing native applications or deploying server-based computing, DesktopDirect is highly cost-effective. Unlike managed services that charge indefinitely, right-sized DesktopDirect hardware and software license packs are an affordable one-time purchase. DesktopDirect can be set up in as little a few hours and is capable of achieving ROI in the time it takes to set up alternate solutions.
Usability
Wake-on-LAN (WoL) capability allows laptops and desktops to be powered down at night, over the weekend or anytime they are not needed and powered up when selected by users. In addition, a comprehensive suite of touch screen gestures and controls are built into the DesktopDirect mobile app in order to provide intuitive control over mouse, keyboard and other PC-specific functions.
Productivity, Business Continuity & Tablet Access
Deploying DesktopDirect to enable tablet access for employees, enterprises get a cost-effective solution that is fully secure and fully under IT control and at the same time provides full application availability, supports a bring your own device (BYOD) strategy and is simple to deploy, manage and use. What's more DesktopDirect simultaneously creates a remote access solution for productivity and business continuity, allowing users to log into their office desktops from any remote device, anywhere.