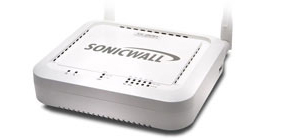 The entry point of the TZ Series, the SonicWALL® TZ 100 Series makes high performance Unified Threat Management (UTM) available and affordable for everyone. Combining a powerful Unified Threat Management feature set with state-of-the-art high-speed architecture and five configurable 10/100 interfaces, the TZ 100 delivers uncompromising protection for small- to medium-sized businesses (SMBs).
Features
The TZ 100 Series offers intelligent protection, business-class performance, advanced networking features and configuration flexibility in an affordable desktop appliance that's easy to set up, operate and manage.
Unified Threat Management.
The TZ 100 Series offers gateway anti-virus and anti-spyware, intrusion prevention and content filtering on a high performance platform through its unified and simple management interface. This powerful combination ensures state-of-the-art security at a low total cost of ownership.
Gateway Anti-Malware and Intrusion Prevention.
Tightly integrated, signature based Gateway Anti-Virus, Anti-Spyware and Intrusion Prevention protect against a comprehensive array of network and application layer threats by scanning packet payloads for attacks and exploits targeting critical internal systems. This provides a first layer of defense by stopping malware before it can reach network systems.
WAN Acceleration.
The WAN Acceleration Appliance (WXA) Series provides WAN Acceleration to reduce application latency, conserve bandwidth and significantly optimize WAN performance. The WXA Series appliances are provisioned, managed and controlled by existing SonicWALL E-Class Network Security Appliance (NSA), NSA and TZ Series appliances for optimal ease of use and simplified deployment.
Multi-WAN Failover.
The TZ 100 Series support WAN failover across multiple Ethernet interfaces to ensure uptime that is critical to many small businesses and retail deployments.
Powerful Secure Remote Access.
Integrated SSL VPN technology enables clientless, remote access to computers, email, files and applications from a variety of platforms as well as full network access through NetExtender™ or SonicWALL Mobile Connect™ for iOS devices (Apple® iPad, iPhone and iPod touch®). Users can also use IPSEC VPN to connect to the TZ 100 Series with a Global VPN Client.
Wireless LAN services.
The TZ 100 Wireless-N integrates ultra-fast 802.11n WLAN capabilities for secure, high-speed connectivity with the ability to create multiple virtual SSIDs (Virtual Access Points) for secure segmented wireless access. Additionally, the TZ 100 Wireless-N applies all Deep Packet Inspection security services to wireless traffic for extra WLAN protection.
Specifications
Firewall Overview
| | |
| --- | --- |
| Feature | Value |
| Stateful Packet Inspection Firewall | Standard |
| Deep Packet Inspection Firewall | Optional |
| Unlimited File Size Protection | Standard |
| Protocols Scanned | 50+ |
| ICSA Firewall Certified | Standard |
Security Services Included
| | |
| --- | --- |
| Feature | Value |
| Application Intelligence and Control | n/a |
| Gateway Anti-Virus and Anti-Spyware | Optional |
| Intrusion Prevention | Optional |
| Content & URL Filtering (CFS) | Optional |
| ViewPoint Reporting | Optional |
| Enforced Client Anti-Virus and Anti-Spyware | Optional |
| Comprehensive Anti-Spam Service | Optional |
Support Services
| | |
| --- | --- |
| Feature | Value |
| Dynamic Support 8×5 | 90 Days |
| Dynamic Support 24×7 | Optional |
Firewall General
| | |
| --- | --- |
| Feature | Value |
| Interfaces | 5 FE, 1 Console Interface |
| Management | CLI, SSH, GUI, GMS |
| Certifications | EAL4+, VPNC, FIPS 140-2 |
| Nodes Supported | Unrestricted |
| RAM | 128 MB |
| Flash Memory | 16 MB |
| Site-to-Site VPN Tunnels | 5 |
| Global VPN Clients (Bundled) | n/a |
| Global VPN Clients (Maximum) | 5 |
| SSL VPN NetExtender Clients (Maximum) | 1 (5) |
| Virtual Assist Technicians (Maximum) | n/a |
| VLAN Interfaces | 5 |
| Unique Malware Threats Blocked | 1,000,000+ |
| SonicPoints Supported | 1 |
Performance
| | |
| --- | --- |
| Feature | Value |
| Stateful Throughput | 100 Mbps |
| UTM Performance | 25 Mbps |
| Gateway Anti-Virus Throughput | 35 Mbps |
| Intrusion Prevention Throughput | 50 Mbps |
| IMIX Performance | 40 Mbps |
| 3DES/AES VPN Throughput | 75 Mbps |
| Maximum Connections | 6000 |
| Maximum UTM Connections | 6000 |
| New Connections per Second | 1000 |
Features
| | |
| --- | --- |
| Feature | Value |
| Logging | ViewPoint®, Local Log, Syslog |
| Network Traffic Visualization | n/a |
| Netflow/IPFIX Reporting | n/a |
| SNMP | Standard |
| Authentication | XAUTH/ RADIUS, Active Directory, SSO, LDAP, Internal User Database |
| Single Sign-On | Standard |
| Voice and Video over IP (VoIP) Security | Standard |
| PortShield Security | Standard |
| Interface-to-Interface Scanning | Standard |
| Integrated Wireless Switch and Controller | Standard |
Wireless
| | |
| --- | --- |
| Feature | Value |
| 802.11b/g/n | Standard |
| Firewalling | Standard |
| Intrusion Protection | Standard |
| Guest Services | Standard |
Failover
| | |
| --- | --- |
| Feature | Value |
| Hardware Failover | n/a |
| WAN Failover | Standard |
| Automated Failover/Failback | Standard |
| Analog Modem Failover | n/a |
| 3G Cellular Modem Failover | n/a |
| Dynamic Routing | n/a |
| Policy-based Routing | Standard |
| Route-based VPN | Standard |
| Bandwidth Management | Standard |
| 802.11n Wireless Support via SonicPoints | Standard |
| Layer 2 Wireless Bridging | Standard |
| Object-based Management | Standard |
| Policy-based NAT | Standard |
| Inbound Load Balancing | Standard |
| Virtual Access Points (VAPs) | Standard |
| SSL Control | Standard |
| IPv6 Ready | n/a |