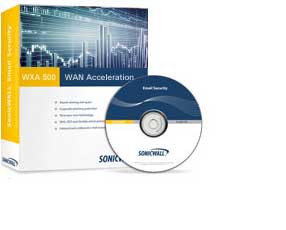 Businesses aiming to significantly enhance WAN application performance while using their own hardware can benefit from the SonicWALL® WAN Acceleration Live CD (WXA) 500. Similar to traditional SonicWALL WXA hardware solutions, the WXA 500 reduces application latency, conserves network bandwidth, and improves the end user experience—only it's delivered as software for use on a dedicated hardware platform. Unlike standalone acceleration products, the SonicWALL WXA 500 seamlessly integrates with SonicWALL E-Class Network Security Appliance (NSA), NSA and TZ Series Unified Threat Management (NGFW) Firewall solutions to offer the unique combined benefit of both prioritizing and minimizing application traffic between sites, resulting in optimal network performance.
Features
The SonicWALL WXA 500 Live CD improves application performance through innovative WAN acceleration and optimization technology, plus it provides added control over the platform and the WAN acceleration application itself.
Deployment.
Designed for up to 20 users, the WXA 500 Live CD is a bootable image of the WXA software and can easily be deployed on dedicated hardware.
Greater control.
Businesses retain the ability to access, make changes, or install other applications to their system. System administrators retain full control of the program and the installed software.
Bandwidth optimization.
The WXA 500 remembers data that has been transferred previously, and through data de-duplication, replaces repeated byte sequences with an identifier to reduce application latency and conserve bandwidth.
Reduced total.
By improving the efficiency and overall utilization of existing WAN bandwidth, the WXA 500 helps businesses avoid incurring higher monthly expenses to increase WAN bandwidth capacity.
Data compression.
The WXA 500 increases network performance while reducing latency by compressing data sent across the WAN.
Specification
Specifications
| | |
| --- | --- |
| Feature | Value |
| Platform | SoftwareCD |
| Maximum Users | 20 |
| Maximum Flows | 100 |
Features
| | |
| --- | --- |
| Feature | Value |
| Byte Caching | Standard |
| Protocols | SMB, CIFS, FTP, HTTP, TCP |
| TCP/File Compression | Standard |
| WFS Acceleration | Yes |
| Management | Requires SonicOS 5.8.1 or later |
| SNMP | Standard |
| Syslog | Standard |
| Management | GUI |
WXA 500 Live CD Only
| | |
| --- | --- |
| Feature | Value |
| Minimum CPU | Pentium 4 or higher |
| External Storage | CD-DVD ROM Bay |
| Allocated Memory | Minimum of 2 GB RAM |
| Allocated Storage | Minimum of 80 GB Hard Disk |
| Storage Controller | SATA Controller with Support for IDE Emulation |
| Additional Requirements | Monitor/Keyboard |