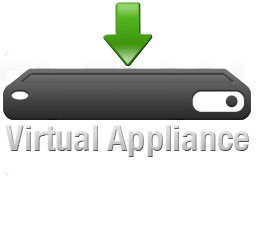 The SonicWALL® WAN Acceleration Virtual Appliance (WXA) 5000 reduces application latency and conserves bandwidth, significantly enhancing WAN application performance and user experience for distributed organizations just as traditional SonicWALL WXA hardware solutions do. But with a hardened, performance-optimized virtual server, integration is simplified, administration is eased, and costs are lowered even further. Unlike standalone acceleration products, the SonicWALL WXA 5000 seamlessly integrates with SonicWALL E-Class Network Security Appliance (NSA), NSA and TZ Series Unified Threat Management (NGFW) Firewall solutions to offer the unique combined benefit of both prioritizing and minimizing application traffic between sites, resulting in optimal network performance.
Features
The WXA 5000 virtual appliance improves application performance through innovative WAN acceleration and optimization technology, while reducing capital costs through virtualization.
Increased savings.
A pre-configured virtual machine has no professional service fees or hidden costs. By running multiple operating systems and applications on a single computer, businesses can consolidate resources and reduce expenses.
Easy migration and management.
Deployment costs are minimized since administrators can simply move a snapshot of a virtual environment to new physical server infrastructure. Ongoing support is also simplified. Each virtual appliance is designed for up to 120 users.
Reliability.
A hardened OS prohibits users from tampering with the underlying integrity of the virtual appliances. The performance-optimized architecture activates only necessary processes.
Bandwidth optimization.
The WXA 5000 remembers data that has been transferred previously, and through data de-duplication, replaces repeated byte sequences with an identifier to reduce application latency and conserve bandwidth.
Reduced total cost of ownership (TCO).
By improving the efficiency and overall utilization of existing WAN bandwidth, the WXA 5000 helps businesses avoid incurring higher monthly expenses to increase WAN bandwidth capacity.
Data compression.
The WXA 5000 increases network performance while reducing latency by compressing data sent across the WAN.
Speacifications
Specifications
| | |
| --- | --- |
| Feature | Value |
| Platform | Virtual Appliance (VMWare) |
| Maximum Users | 360 |
| Maximum Flows | 1800 |
Features
| | |
| --- | --- |
| Feature | Value |
| Byte Caching | Standard |
| Protocols | SMB, CIFS, FTP, HTTP, TCP |
| TCP/File Compression | Standard |
| WFS Acceleration | Standard |
| Management | Requires SonicOS 5.8.1 or later |
| SNMP | Standard |
| Syslog | Standard |
| Management | GUI |
Virtual Appliance
| | |
| --- | --- |
| Feature | Value |
| Hypervisor | ESX and ESXi (version 4.0 and newer) |
| Operating System Installed | Hardened SonicLinux |
| Minimum CPU | 2 x 1.6 Ghz |
| Allocated Memory | 4 GB |
| Applied Disk Size | 250 GB |
| VMware Hardware Compatibility Guide | VMware Hardware Capability Guide |