Complete Security for Network Access
The Internet of Things, BYOD, and cloud-based applications are rapidly changing the way enterprise organizations deploy access networks, connect devices, and enable business applications. But the implications of these changes impact how networks must be secured. Fortinet's network access portfolio combines market leading cyber security capabilities with enterprise access in a Secure Access Architecture framework. This architecture expands Fortinet's innovative internal segmentation cyber security strategy, enabling organizations to seamlessly segment devices and access layers across wired and wireless networks
Complete Secure Access Product Portfolio:
Click to See a Larger Image

Combines cyber security with enterprise access
Enables segmentation of devices and access layers across wired/wireless networks
Provides a flexible platform with end-to-end protection
Scalable to enterprises of all sizes and types
Infrastructure Wi-Fi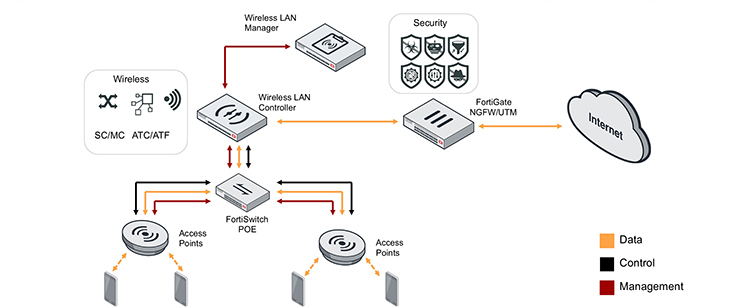 Our Infrastructure offering combines on-premise controller-based management, open application appliances, and a range of high-performance indoor and outdoor access points. This is the ideal solution when an organization needs to separate the access infrastructure from the underlying network's security infrastructure. With network controlled roaming, users benefit from the best possible mobility experience. The Infrastructure solution offers the most flexible channel configuration and layering to simplify deployment while increasing performance, traffic segmentation, and capacity. This solution scales for implementation in small, medium, and large enterprises of all types.

Integrated Wi-Fi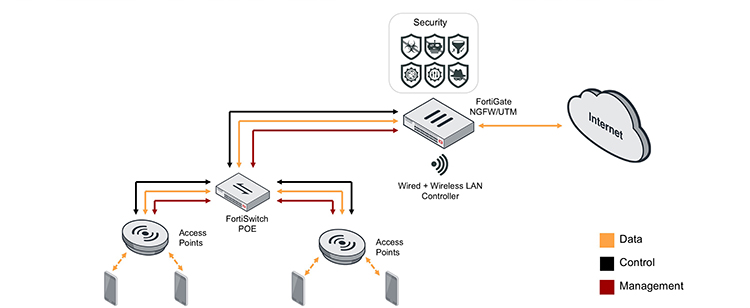 Our Integrated offering is a family of controller-managed access points which function in cooperation with a FortiGate. In addition to consolidating all the functions of a network firewall, IPS, anti-malware, VPN, WAN optimization, Web filtering, and application control in a single platform, FortiGate also has an integrated Wi-Fi controller. Fortinet access points are either integrated into the FortiGate (FortiWiFi) or are connected directly to FortiGate to provide comprehensive wireless coverage.
Cloud Wi-Fi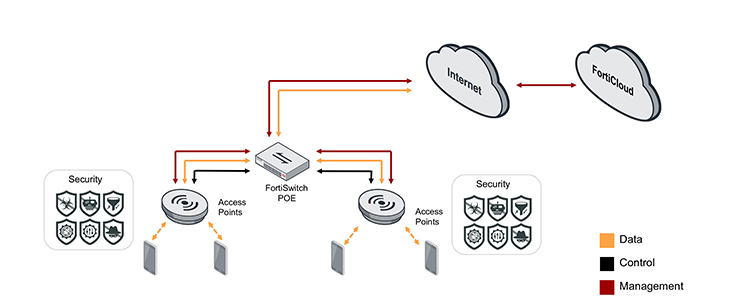 Our Cloud-Managed WLAN solution is unlike any other Cloud Wi-Fi offering. Based on the FortiCloud Provisioning and Management Service and a new class of access points, the FortiAP-S series combines the elements of advanced firewall protection at the network edge with the simplicity and convenience of cloud management.